CANADIAN CLEAR DESALINATION PLANT
Canadianclear designs and engineers the total sea water desalination plant from sea water intake to discharge of reject water back to the sea Design basis and details engineering is done in-house to offer lowest cost in intake and outfall by a detailed bathymetry report and analysiscc ensures a seamless design of intake and outfall to ensure zero impact on marine life or the environment the most gentle intake and optimized high speed dilution of the out fall is the key behind a environmentally friendly design cc is the only company in the world to provide both membrane-based and mechanical evaporation i.e. non thermal and thermal water desalination technologies and solutions. withe design focus on maximum energy saving and minimum operating cost .cc incorporates the most advanced energy saving devices to achieve the above .patented advanced nano GO membrane technology developed by cc ensures the lowest operating pressure in the world
UNMACHABLE OR UNCOMPARABLE TO ANY OTHER
Canadianclear PROVIDES turnkey COMPLETE LINE SOLUTIONS and plants developed under Engineering' Procurement' and Construction (EPC) and BOOT BUILD OPERATE OWN TRANSFER and BOO build operate own contracts' cc is the world leader and largest manufacturer of customized' pre-engineered 'preinstalled containerized seawater desalination solutions.with a installed capacity over 200 mld cc is driving its R & D and design solutions towards enhanced energy saving and minimized water footprints' creating the best customer experience in the process.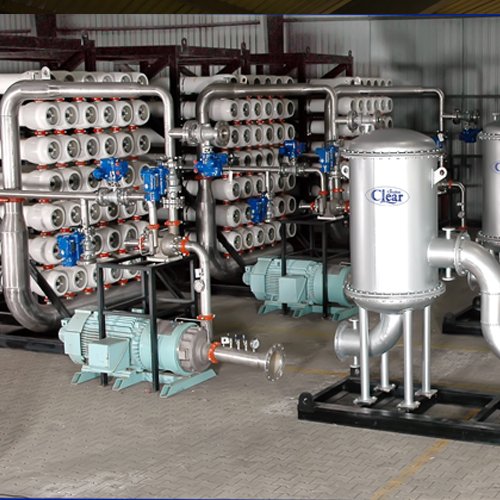 SEAWATER DESALINATION PLANT
CANADIAN CLEAR combats water shortages by deploying seawater' brackish water and wastewater desalination procedures.
Seawater accounts for 97% of the water on earth. Since almost 60% of the world's population lives less than 60 km from a maritime coast' seawater is poised to become one of the main alternative resources in those regions in the next several decades. In arid coastal regions' desalination can augment available water resources. It also has the advantage of reducing water dependency on other regions and eliminating the need to import and transport water over long distances
REVERSE OSMOSIS' A PROVEN TECHNOLOGIES
Reverse Osmosis is a proven technology for desalinating seawater' which contains almost 100 times more than the WHO-recommended amount of salt in water destined for human consumption.Reverse osmosis membrane desalination, the water is fed under pressure through a membrane' which lets the water through but traps the salt. CANADIAN CLEAR Technologies is working to optimize the performance of our clients' desalination processes' both in terms of their environmental impact and energy use
Type of water for desalinating
Brackish Water
High Brackish Water
Seawater
Proven Process offered by CANADIAN CLEAR including its Pre-treatment
Micro Filtration
UltraFiltration
Nano Filtration
Reverse Osmosis
During the past decade' membrane technologies have gained its momentum in the water treatment segment and are justifiably regarded as the technology of the future. This is easy to understand as they guarantee efficient and environment-friendly purification with a minimal use of chemicals. Moreover' ultrafiltration membranes have established a position in the drinking water sector due to the fact that they filter water to such an extent that it is virtually free of solids. Bacteria' parasites and viruses are not killed off' but entirely removed from the drinking water.
The technology and process involved are relatively simple' membranes representing very fine filters' which act like sieves through which water is either pressed or sucked. Any content' which is larger than the microscopic pores' is separated out and depending on the fineness of the filter' a differentiation is made between micro-, ultra- and nanofiltration. Reverse osmosis is an additional variation' in which only water molecules pass through the membrane.
CANADIAN CEAR has been using this membrane process in combination with conventional cleaning processes for many years and due to this experience and in-house innovations' has built up a pool of comprehensive expertise. Company know-how 
relates to an extensive knowledge of the performance and applications of the various membrane types and combinations
with other treatment phases to meet specific requirements on a case-to-case basis. CANADIAN CLEAR offers a diversity of membrane processes and selects the best and lowest-cost variation for each application.
Seawater Reverse Osmosis
Brackish Water Reverse Osmosis
Brine Recovery to Reusable Salt (Zero Waste)
WHY CANADIANCLEAR ?
Over 50 years of desalination experience
One of the only company in the world with NON thermal/ thermal and membrane technology capability
LoENERGY ™ Technology
optimised energy consumption and enhanced plant performance
its important to harness the abundant source of sea water and put it to good use Incorporating advanced low energy technology to produce low cost affordable portable water globally from the undepletable oceans is the need of the time to cater to the ever growing demand for portable /process water
As a GLOBAL leader in membrane technologies solutions ' we strengthened our technology basket and commitment to affordable desalination solutions by the aquisition of Terror Miffe in 2014 for non thermal desalination and JV to develop GO based NANO TECH RO
membrane technology WITH tryligas in 2016 has made us a pioneer in this industry
with over 5 decades of technological excellence in providing affordable solutions world wide we have covered 5 contents and 52 countries catering to various industries 'and communities. Canadianclear design -engineering team can offer the most advanced cost effective 'energy efficient desalination technologies available' selecting the solution that′ best suited for the client. various cc Desalination Products AND TECHNOLOGY
Reverse Osmosis-RO
Advanced low energy GO NANO RO MEMBRANE TECHNOLOGY
electromagnetic cavitation
providing Complete LINE Solutions
EPC/Turnkey Installations
Engineered Systems
DBOOT/BOO Capability and Experience
Process Engineering and Design Services